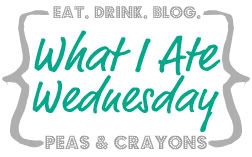 It's that time of the week again. Check out these good eats! (And random tidbits about my Wednesday!!)
Breakfast:
This photo is deceptive. What looks like a mug is actually a giant bowl. What looks like a bowl of yogurt is actually a bowl of wheat puffs and Fiber One covered in Strawberry Yogurt.
Wednesday's featured cuteness:
That's my doggy Westley and my kitty Bentley. They are friends <3
This is my other doggy Reese. He prefers to sleep on the opposite side of the couch (ahem, animal bed) away from the others.
Lunch:
Lunch today was a turkey wrap with a side of Tostitos Hint of Pepper Jack chips and a Gala apple. Yes that is my glass of water…in a plastic Jungle Book cup my mom bought me from Burger King when I was probably about 5. I may or may not have this cup for just about every Disney movie.
Afternoon snack:
Almond milk blended with hot chocolate packet. I was craving chocolate milk. We didn't have any, but this hit the spot! I will definitely be drinking this beverage again.
I'm not sure what dinner is looking like tonight, but I'm getting hungry! Possibly pesto pasta? And there will definitely be some snacking going on tonight.
What made my day:
This actually happened yesterday, but it's still making my day today. It made me just that happy! Taylor was talking about how on Monday we can go to a labor day party my cousin is hosting. I had to remind her that, no I can't go to the labor day party because I'll be back at school. She replied "Awww, that sucks. I wish you could live at home all the time!"
I love you sissy, and I'll miss you like crazy when I'm at school! PS-this picture was taken at the Harry Potter 7 premiere. While I wish I carried around a wand with me 24/7, I must admit, I don't.
XOXO,
Jamie