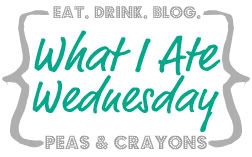 It's that time of the week again! Can you believe it's already Wednesday!? Technically these are Tuesday's eats….but who's really counting.
Let's just say I've been a little pumpkin obsessed lately. Pumpkin has been impossible to come by in Ohio until very recently. I seriously can't get my hands on enough of the stuff.
Breakfast:
Pumpkin overnight oats! These oats tasted like pumpkin pie. So good. Definitely will be having them again tomorrow. I mixed 1/3 cup oatmeal with 1/3 cup pumpkin, 2 tsp. cinnamon, a splenda packet, and enough coconut milk to blend everything together (probably a little less than a cup). Once all this was mixed, I placed it in the fridge overnight and had a wonderful breakfast waiting for me when I woke up.
Snack:
Yes, I prefer to drink my smoothies out of wine glasses. I'm just so classy like that…the plastic straw only adds to my illusion of class
<—there is my foot!
Banana Pumpkin smoothie! I blended together a frozen banana with 1/2 cup pumpkin, a teaspoon of cinnamon, a teaspoon of vanilla, 2 splenda packets, and about a cup of coconut milk. This smoothie was amazing.  Banana and pumpkin go together surprisingly well.
While I'm currently obsessed with pumpkin, I did however, eat lots of other yummy things today: grilled turkey sandwich, pretzels, grilled chicken, baked potato, jelly beans. Today was pretty good in the eats department, and was actually really great overall.
I had Renaissance Literature this morning which is actually turning out to be one of my favorite classes. It is super challenging for me, but the class is so exciting and fun. My professor is amazing and super enthusiastic about the topic. Then, this afternoon, I shadowed a pediatrician. I always have a lot of fun doing that. Every week I realize more and more that medicine is definitely what I need to do with my life. I had a lovely skype date with my boyfriend. Then I met up with some classmates to finish the Animal Physiology problem set. Now, I'm finally here, ready for some much need rest and relaxation.
Hope you all have a wonderful Wednesday!
What's you're favorite day of the week?
Don't you think my sister should be super nice and give me her hand-me-down Nikon D40 so I can get back to beautiful food photography?
XOXO,
Jamie