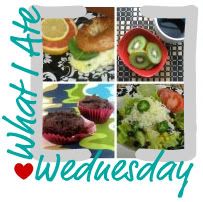 Can you believe it is Wednesday already!? I cannot! This week is (thankfully!) flying by. I know that I should cherish every moment of my life, and not wish time away. Next week is fall break though, so I get to spend an entire week at home! Needless to say I am excited! There will be a lot of baking going on.
Also, can you believe I actually remembered to photograph all my eats today!? It's been super fun. I've loved everything I ate today, so enjoy
Coffee Oats! Yep, I cooked my oats with water, then added instant coffee powder and lots of sugar. Today was my first time trying it, and I'm glad I did.
Do you think coffee in my oats stopped me from having coffee between classes? Nope! I needed some fuel for my discussion in virology today. This large coffee with soy milk did the trick.
Lunch was a mixed green salad with sunflower seeds, onion, snap peas, turkey, and balsamic vinegar. I also had some cottage cheese and grapes on the side.
Mid-afternoon snack while studying virology. Noticing a theme here? My life is being taken over by school.
This dinner came together so quickly! The garlic butter sauce on the pasta was delicious and there was just enough to give you amazing flavor without being overwhelming or heavy. I sauteed up some extra broccoli and mushrooms to amp up the volume of the meal. I'm already looking forward to eating the leftovers tomorrow!
I'm sure I'll get some late night hunger after a long night of studying and pinning
Snacks could possibly include oatmeal with biscoff spread, yogurt and wheat puffs, or a smoothie…we'll see what my belly wants when the time comes. A glass of wine could also be on the agenda tonight.
XOXO,
Jamie