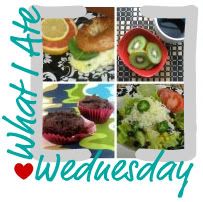 If you haven't already caught onto the WIAW party, head on over to Peas and Crayons and Check it out!
For the last couple weeks, my stomach has been really upset. I've been experiencing upper abdominal discomfort and nausea. I know what everyone is thinking, and NO I am not pregnant! I am 100% positive of this.
I'm not a Doctor (yet), but after some online searching, I've come to the conclusion that I have Gastritis which is an inflammation of the stomach lining. Gastritis can be caused by a number of things including stress! I don't advocate self-diagnosis, but I also don't think my discomfort is serious enough to warrant a trip to the doctor. Anyways, since my tummy has been all yucky feeling, I have completely lost my appetite for vegetables. The thought of eating a vegetable is completely nauseating. Also, I cannot stomach yogurt (which is so sad because I normally eat it on a daily basis!) Needless to say, my grain consumption has skyrocketed in the past couple weeks.
So here's a glimpse into what I ate this week with my upset stomach:
Monday's Dinner: Pizza with whole wheat flatbread/pita crust. This is the first time I've used a pita type flat bread for the crust, and it was AMAZING! I love a crispy crust, and this was perfect. Also, turkey pepperoni is delish. There was also cookies and cream ice cream consumed for dessert. Ice cream actually makes my stomach feel a little better.
Today's Breakfast: Whole wheat toast (a little burnt…oops) with butter and a bowl of oatmeal with a little sugar.
Today's dinner: A cranberry bagel with cream cheese, cottage cheese, and grapes.
And after dinner, I made a quick trip to CVS for these. The Nauzene seems to work pretty well actually.
And in attempt to spread the holiday cheer (or out of pure laziness) I graced the people of Oberlin with my lovely candy cane pajama pants…Oh to be a college student…
XOXO,
Jamie